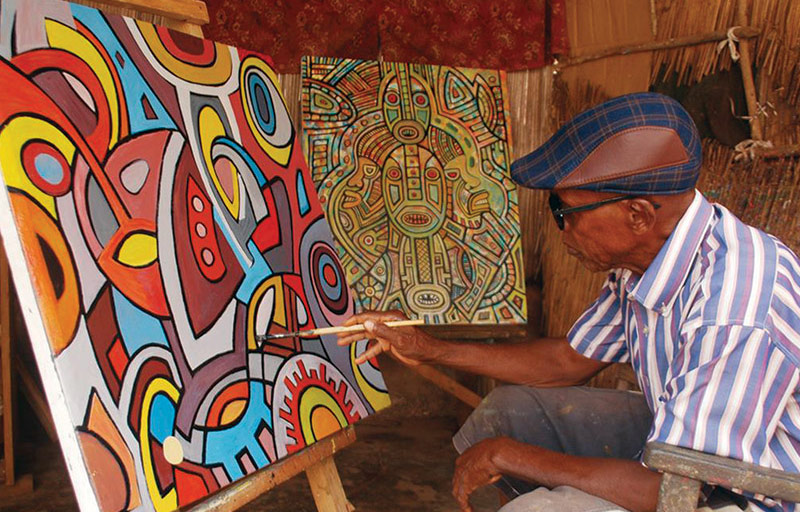 ---
Joseph Amedokpo was born in 1946 in Vogan, a small town on the coast of Togo. Even as a child, Joseph liked to paint various motifs from his everyday surroundings. He liked drawing on the walls and the floor with chalk. He realized at a young age that painting was his destiny.
When Joseph was 8 years old, he went to Lagos – Nigeria, where he did various jobs in order to make a living. Painting accompanied Joseph always and everywhere during these years. In 1966 he began a scholarship and studied art at the Yaba Trade Center in Lagos, which he successfully completed in 1968. After graduating, Joseph earned his living exclusively selling his paintings.
In 1984 Joseph returned to his homeland, Togo, where he has lived and worked again since then. He is busy painting every day in his small studio in Vogan. Joseph paints with locally available oil paints that he mixes himself together. Recycled flour sacks serve as a canvas.
The mystical design language of his oil paintings and the skilful use of bright colors correspond to African art tradition. Joseph captured his motives in a dream and he implemented them the next day.
In this way, modern themes emerge from African art and culture, which give Joseph's works a timelessly fresh aesthetic. In 2008, Joseph made motifs of his work available for the Dell Red Initiative. Dell used these as templates for a modern laptop design. Joseph Amedokpo's works are exhibited and traded by gallery owners around the world.
---
In cooperation with a private collector of abstract african art, we are now presenting reprints of original oil paintings by the well-known Togolese artist Joseph Amedokpo. These have now been edited in screenprint-fashion and put on various types of paper in their original format.
In the future we will regularly release new motifs and the range will also be expanded. Special requests regarding framing and other prints (screen print, canvas…) on request.
From now on, the following works can be obtained through superchan.de only: